Up until the Edo Period (1603-1868)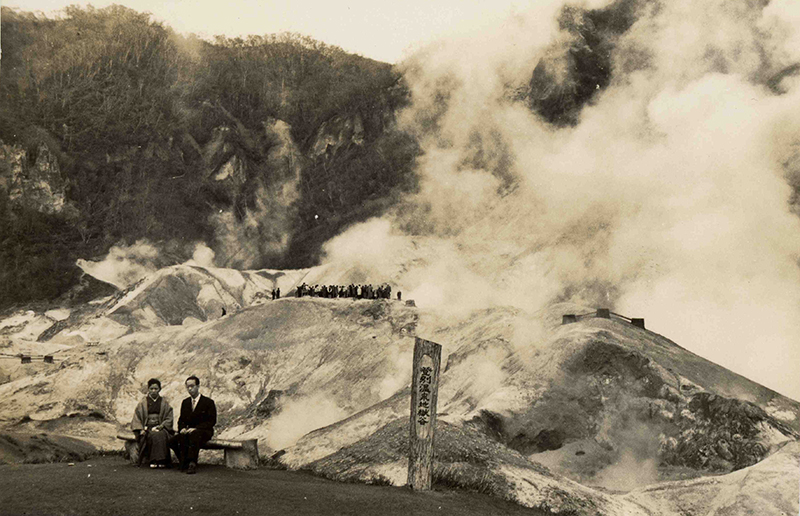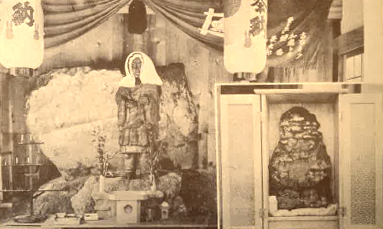 1666
Enku creates the Kannon with a hatchet
This is one of the statues of Kannon that Enku, a monk from Mino Province, carved with a hatchet while traveling around southern Hokkaido. The statue is now enshrined in a shrine in a corner of Noboribetsu Jigokudani Observation Hill.
Around 1785
Mogami Tokunai visits Noboribetsu and records his visit in Ezo Soshi
Around 1845
Takeshiro Matsuura visits Noboribetsu Onsen for the first time.
The explorer Takeshiro Matsuura, who is also called the Godfather of Hokkaido, visits Noboribetsu Onsen and writes about its fascination in his book.
1857
Hanbei Okada renovates Noboribetsu Onsen
Hanbei Okada, an Omi merchant who mined sulfur in Jigokudani, built a bathhouse for common laborers at his own expense.
1858
Kinzo Takimoto opens Noboribetsu Onsen
Kinzo Takimoto, known as the founder of healing ONSEN, privately built an ONSEN inn that became the forerunner of the Dai-ichi Takimotokan, and laid the foundation for the present by constructing a new road (the current route).
Kinzo Takimoto
Kinzo was a carpenter from Edo (present-day Tokyo) who was dispatched by the Shogunate to Ezo (present-day Hokkaido) to work on the construction of an ekiteisho station post in Horobetsu. His wife, Sata, suffered from a severe skin disease, and when Kinzo heard a rumor about Noboribetsu Onsen, he went into the woods and built a bathhouse where she started her ONSEN treatment to cure her skin disease. Eventually, Sata's skin disease was cured, and in order to spread the word about the efficacy of the ONSEN, he obtained permission from the ONSEN chief official and established a ONSEN inn.
1861
Construction of Yakushi Nyorai-do
It is said that a retainer of the Nanbu clan, who was suffering from an eye disease caused by a sword wound from mining sulfur at the time, was cured of his eye disease by washing his eyes in the ONSEN that gushed beneath Yakushi Nyorai-do. The statue of Yakushi Nyorai donated by the retainer is enshrined here.
Meiji Era (1868-1912)
1871
Nisshin writes a mantra on a rock in ink
1881
Kinzo privately builds a new road over Momiji-dani to develop ONSEN
1886
Aiki Hino discovers Karurusu Onsen
Aiki Hino, clerk of Muroran county office, investigated upstream of Noboribetsu River for settlement of Tonden soldiers, and found the source of the ONSEN.
1890
Construction of indoor bath at Dai-ichi Takimotokan
1897
Kyukitsu Hino opens Karurusu ONSEN
Kyukitsu Hino, adopted son of Aiki Hino, discovered another ONSEN. When he tried drinking the ONSEN water, it cured his gastric catarrh, peaking his interest. He established a road from Horobetsu to the ONSEN and opened the ONSEN.
1901
A new road between Noboribetsu Onsen and Noboribetsu is completed, leading to travel by two horse-drawn carriages
1903
Mashiho Chiri born
1905
Karurusu Onsen becomes a care facility for the Asahikawa Army Reserve Hospital
Karurusu Onsen was designated as a care facility for wounded soldiers of the Russo-Japanese War, which led to the popularization of Karurusu Onsen and Noboribetsu Onsen as famous ONSEN.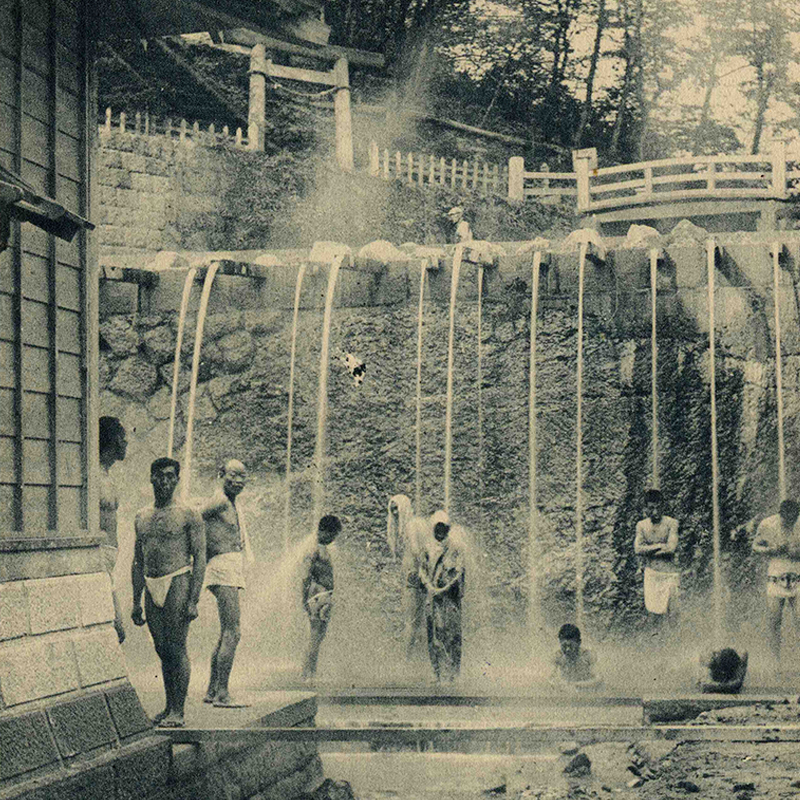 Taisho (1912-1926) and Showa (1926-1989) Eras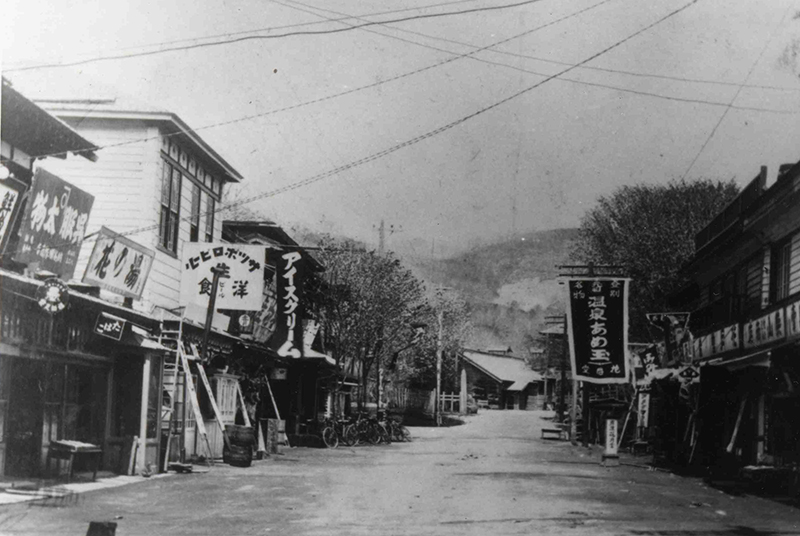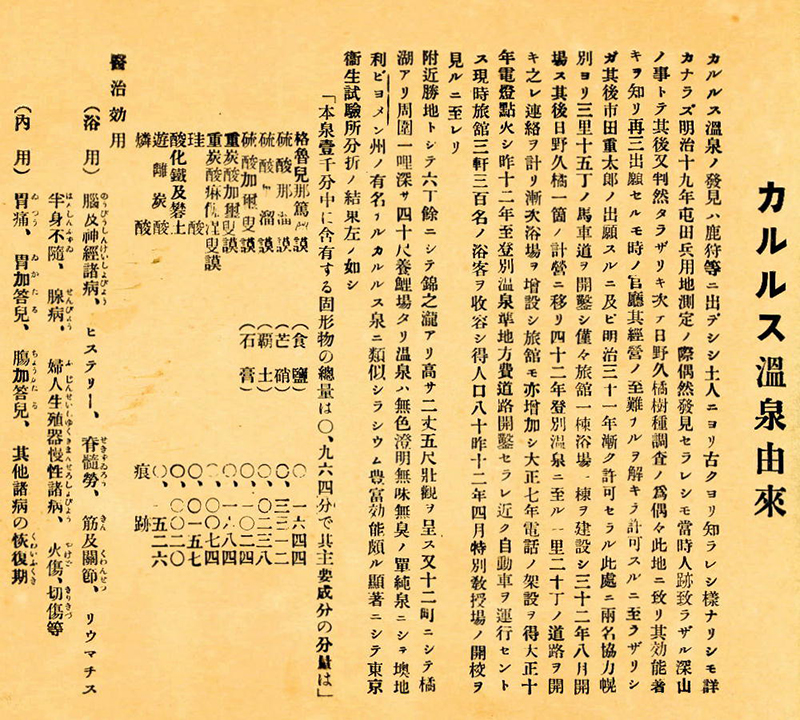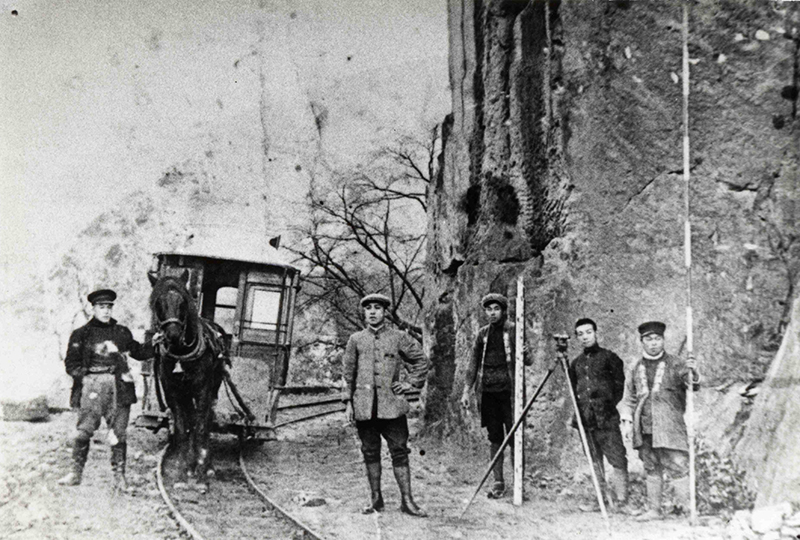 1915
Establishment of Noboribetsu Onsen Railroad Co.
Horse-drawn carriage railroad began operation.
Kotaro Fujisaki created his wasabi garden.
1918
Steam locomotive and light railroad open
1924
The Noboribetsu Primeval Forest is designated as a natural monument
1925
Train service begins
1934
Kodomo no Kuni Amusement Park opens
1935
The Noboribetsu Branch of Hokkaido Imperial University opens
1938
Construction of Noboribetsu Grand Hotel
1940
Army sanatorium for wounded soldiers completed
1943
Haiku monument by Kyoshi Takahama (Mt. Funami promenade trail)
1949
Shikotsu-Toya designated as national park
1954
Showa Emperor visits Noboribetsu Onsen
1957
Karurusu Onsen designated as a National Hot Spring Health Resort
1958
Noboribetsu Bear Park opens
100th anniversary of the opening of Noboribetsu Onsen
1964
First Jigoku Matsuri held
On the day of the first Noboribetsu Jigoku Matsuri, the quiet Noboribetsu Onsen resort was filled with the sound of drums, and many tourists participated in the Oni Mikoshi portable shrine and Oni Odori Dai-Gumbu dance, turning Noboribetsu Onsen into a lively celebration.
1981
Noboribetsu City Museum of History opens
Heisei Era (1989-2018)
1990
Noboribetsu Marine Park opens
1992
Noboribetsu Date Jidaimura opens
2004
Jigokudani (Hell Valley) selected as a Hokkaido Heritage Site
2007
Kanto Rera Noboribetsu Culture Exchange Center opens
2008
Completion of Sengen Park
150th Anniversary of Noboribetsu Onsen
In commemoration of the 150th anniversary of the opening of Noboribetsu Onsen, Sengen Park was constructed on the former site of Hotel Noboribetsu Paradise. In the park, there is a geyser that shoots up to a height of 8 meters every three hours with a temperature of 80 degrees Celsius.
2013
The 50th Jigoku Matsuri held for 3 days
The Nine Metal Clubs of the ONSEN Demon God were constructed in Sengen Park
2015
Hokkaido Shinkansen commences operations
Noboribetsu Onsen Police Box newly constructed and relocated
2016
Taisho Jigoku hot water spouting (ongoing through 2017)
2017
Name changed to Noboribetsu International Tourism and Convention Association
Recorded 510,000 foreign visitors who took a trip to Japan and stayed overnight
Signed an agreement with the Noboribetsu Chamber of Commerce and Industry for collaboration and cooperation
2018
Hokkaido Eastern Iburi Earthquake
Signed an Agreement on tourism friendship exchange with Taichung International Tourism Association, Taiwan
Signed an Agreement on tourism friendship exchange with Taichung Hot Springs Tourism Association, Taiwan
2020
Received Prime Minister's Award at the Furusato Event Awards for Demon Fireworks in Jigokudani
UPOPOY National Ainu Museum and Park opens
2021
Number of overnight guests falls below 400,000 for the first time in 72 years since 1949
Enma Daio and Enmado renovated